About one third of Malaysians regularly take vitamin/ mineral and food supplements1 (including those without prescription from a healthcare provider) to improve general wellbeing and attain a more complete and balanced diet. While supplements like Vitamin C, Fish Oil, or Multivitamin are most popular among Malaysians1, Protein is also gaining some awareness in recent years.
How important is protein?
When it comes to protein, most of us would relate it strongly with bodybuilding, fitness and sports. This is a very common perception because protein plays a prominent role in building our muscles.
However, muscles aside, Protein is also essential for various functions of the body. Commonly known as the "Building Blocks of Life" in the world of dietetics, protein's amino acids help us to grow and repair our body cells and tissues, promote healing and recovery, regulate various metabolic functions in our body, and support our immune system as amino acids also help to produce white blood cells, antibodies and antioxidants2.
In fact, protein deficiency, besides accelerating muscle loss, also causes other problems such as fatigue, weakness, thinning hair, brittle nails, dry skin, mood swings, more frequent infections, and poor healing or recovery rate.
OK, so how much protein do we need?
The amount of protein intake varies depending on an individual's age, weight, gender, health status and level of physical activities.
As a general guideline however, according to MRNI (Recommended Nutrient Intake of Malaysia), a healthy adult should ideally get 1 gram of protein for every kilogram of his or her body weight each day.
This means if you weigh 50KG, you should be getting 50 grams of protein every day, or at least 80% of it. And if you are an older adult (aged 50 and up), or practise an active lifestyle with strenuous physical activities, you may also require a higher protein intake.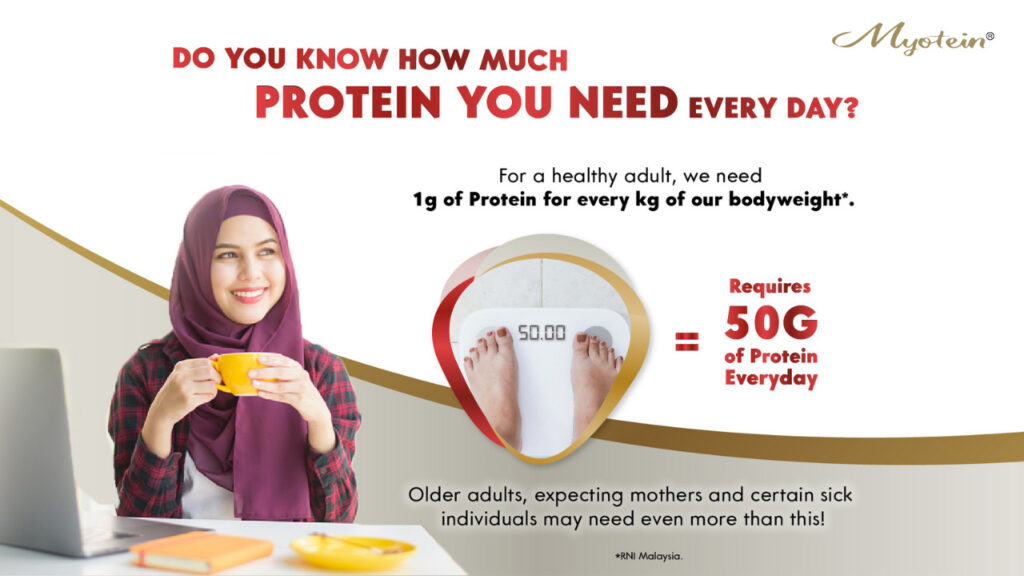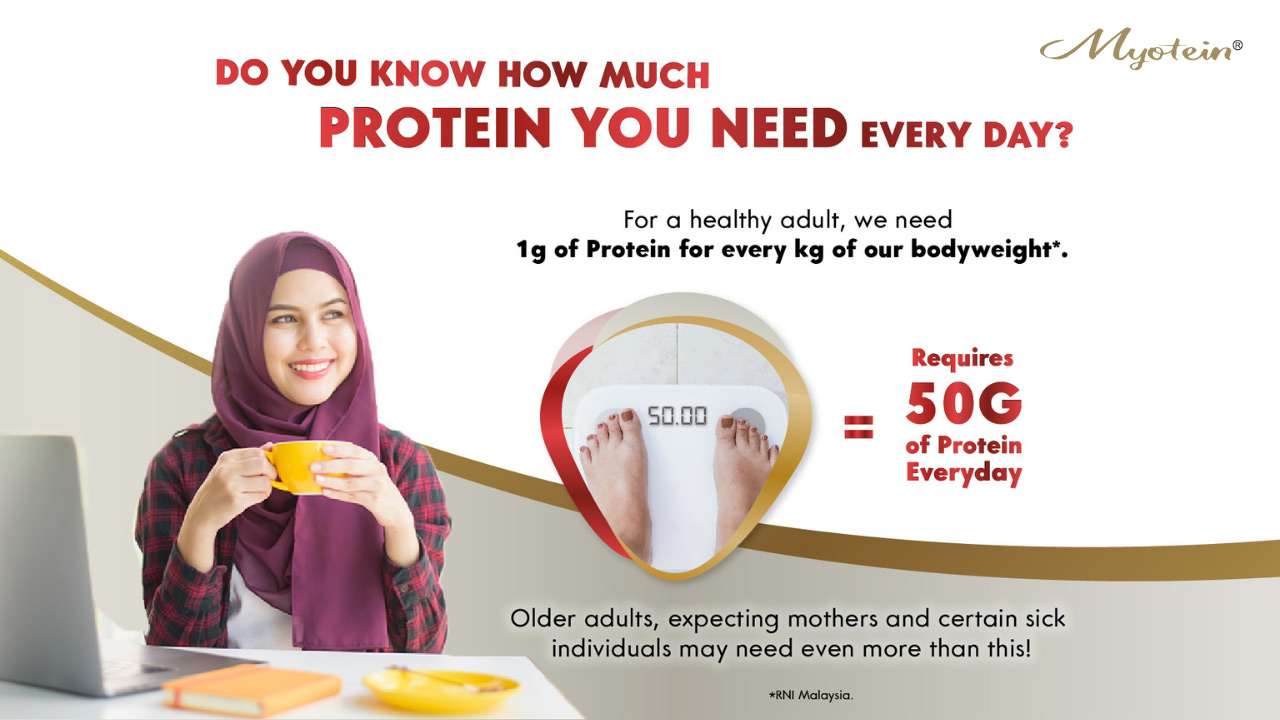 Visual 1: General protein requirements based on Recommended Nutrient Intake of Malaysia (MRNI)
Interestingly, our body does not store proteins over a long period of time. So unlike carbohydrates or fats, where their excess will be turned into sugar and eventually excess body weight if they are underutilised by the body, proteins are instead constantly utilised by the body for our cells, tissues, and various bodily functions. This explains why we need to consume sufficient protein every day to sustain our body.
But, don't we get proteins easily from food?
While we all know a balanced diet should help us to acquire essential nutrients our body needs, we know it's not an easy feat especially in our busy, fast-paced lifestyle, hence the use of supplements.
Furthermore, as Asians, our diet is more often high in carbohydrates because rice and noodles are our food staples. This is also one of the main reasons why we tend to overlook or neglect getting enough proteins in our meals.
You'll get a better picture looking at some of our favourite Malaysian food below,
Visual 2: Carbohydrates and protein content of popular Malaysian food
Thus, unless we make an effort to monitor our protein intake, getting sufficient proteins can be quite challenging when carbohydrates are taking up a large portion of our daily meals.
This is where supplements come in handy. Take Vitamin C for example. Most of us take Vitamin C supplements for immune support, although we are able to get it from various fruits and vegetables. The same can be applied to improve our protein intake through protein supplements.
Protein supplements
There are various types of protein supplements in the market, usually in liquid or powder form, flavoured or unflavoured. If protein is the only nutrient one is looking to supplement, then a Modular Protein Supplement would be a better choice.
A modular protein supplement consists of only protein alone and normally with a single protein source (e.g. Whey Protein or Soy Protein). It is mostly unflavoured with no added sugar or other ingredients in it, which consumers can freely mix into various food and drinks of choice e.g. coffee, tea, oatmeal, juices and so on without altering the taste or texture.
Visual 3: Usually unflavoured, modular protein supplements like Whey Protein Concentrate enables consumers to add it into drinks or food of choice to improve protein intake.
Modular Protein Supplement can be vastly different from a Protein Shake or Drink. Modular Protein Supplements function just like most vitamin/mineral supplements e.g. Vitamin C, Fish Oil, Calcium which usually consists of a single main ingredient alone, and this often makes it easier for consumers to monitor and acquire only the nutrients one's diet is lacking of (and to prevent overdose). A common example of modular protein supplement would be Whey Protein Concentrate or Isolate.
Visual 4: Valens Myotein, a dietary protein supplement (bioactive whey protein concentrate) popular among dietitians, surgeons and other healthcare experts in Malaysia.
On the other hand, Protein Shakes may or may not consist of other ingredients or a mix of different protein sources (whey, soy, pea and so on). Usually flavoured and ready to be taken on its own, they can be a high protein meal replacement which comprises of not just protein, but also a mix of other ingredients and nutrients such as carbohydrates, fats, fiber, vitamin, minerals and so on, something like a multivitamin or complete nutrition formula.
Anything else to look out for?
Take protein supplements moderately, just like how you take your regular vitamins. Read the product's label carefully, and best to consult a healthcare provider before starting any supplement.
For those who aren't aware, protein is a Macronutrient: a key nutrient which our body needs in a large (hence, Macro-) quantity every day. In fact, the name *PROTEIN* comes from the Greek word proteios, meaning "primary" or "first place."
So naturally, if you're already taking vitamins everyday to improve your overall well-being, consider using a Protein Supplement after checking with a healthcare provider.
============================================================================================================
This article is written by Cik Siti Faihah Shamshul, a practising dietitian of MDA (Malaysian Dietitian Association).
References:
Prevalence and Characteristics of Dietary Supplement Users in Malaysia: Data From the Malaysian Adult Nutrition Survey (MANS) 2014. Global Journal of Health Science. Vol. 10, No. 12 (2018). DOI: 10.5539/gjhs.v10n12p127
Guoyao Wu. Food Funct 2016, Vol 16. Dietary protein intake and human health. DOI https://doi.org/10.1039/C5FO01530H