Description
Fiber Powder Module
KKLIU 0310/2019 / MAL 14065005TC
Dietary fiber is a very important component of human nutrition. In recent years, the beneficial effects of water soluble dietary fibers have received much attention. Not all fibers are the same. Our Gucil is a 100% partially hydrolyzed guar gum (PHGG) that has been tested to be safe in promoting gut health.
Ingredients & Nutrition Panel
Ingredients: Maltodextrin (from corn)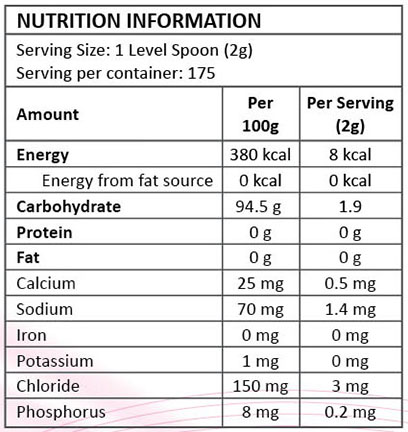 Mix with Liquids
Measure required amount of Valens Carborie® using given measuring spoon. Stir Valens Carborie® into the desired amount of feeding formulas or beverages with a spoon.
Mix with Foods
Sprinkle and stir in desired amount of Valens Carborie® into pre-mixed or prepared foods such as mashed potatoes, soups, gravies, yogurt or oatmeal.
Supplying carbohydrate calories for :
For infants or adults requiring additional calories from carbohydrate for protein-, fat-, or mineral & electrolyte-restricted diets
When medical or surgical status prevents adequate intake of calories from a normal diet
May be used as a carbohydrate supplement to enteral nutrition formula
High degree of glucose polymerization
Lower osmolality – minimizing potential osmotic diarrhea
Mixes readily with most formula, food & beverages
Low mineral & electrolyte
Lactose & gluten free
Fat & Protein-free clear fluid




Material Safety Data Sheet

Pharmacopoeias Compliance