With the number of chronic and critical illness patients growing constantly, and the emergence of new diseases and disorders, there are more health complications and conditions today, which often require special therapeutic diets for nutritional support. For example, a full liquid diet for tube feeding, pureed diet for dysphagia patients, a high fibre diet, a high protein diet, a renal diet and so on.
This is where medical nutrition is required to fulfil these special dietary needs, which can no longer be achieved through a regular food diet, to enhance and support a patient's wellbeing and quality of life.
Valens products are regularly used in hospitals and clinics for various applications.
Medical nutrition designed to make a difference  
Through science-based medical nutrition, Valens Nutrition has been making a difference in many lives. For over 15 years, Valens' medical nutrition range has been widely used by healthcare professionals such as doctors, specialists, dietitians, pharmacists, therapists and so on. Ask most doctors or dietitians about Valens, and they are usually familiar with it.
Valens specialises in supplementary nutritional products which are required for special dietary needs such as tube feeding, high protein diet, dysphagia diet and many others. Their products such as Myotein, Thixer, Gucil and so on are commonly used at hospitals and long-term care facilities for various areas, such as oncology, surgery, wound care, ICU, paediatrics, geriatrics, dialysis and other applications.
Prioritising consumer needs first
At Valens, their mission is to address as many health nutrition gaps as possible, regardless how niche they may be.
Jennifer Wu, a dietitian by profession and product manager of Valens Nutrition, believes strongly in translating evidence-based science into practice, and addressing patient needs first above all things.
"Often, it's not just about what we can or are able to offer, but what do patients really need," said Wu. "Undeniably, there are many great nutritional products out there in the market. But we have to ask ourselves, do patients really need this?
This is what sets Valens apart. We don't just focus on how competitive, or how cutting-edge our products can be, but prioritizing on the right (healthcare) solutions patients need."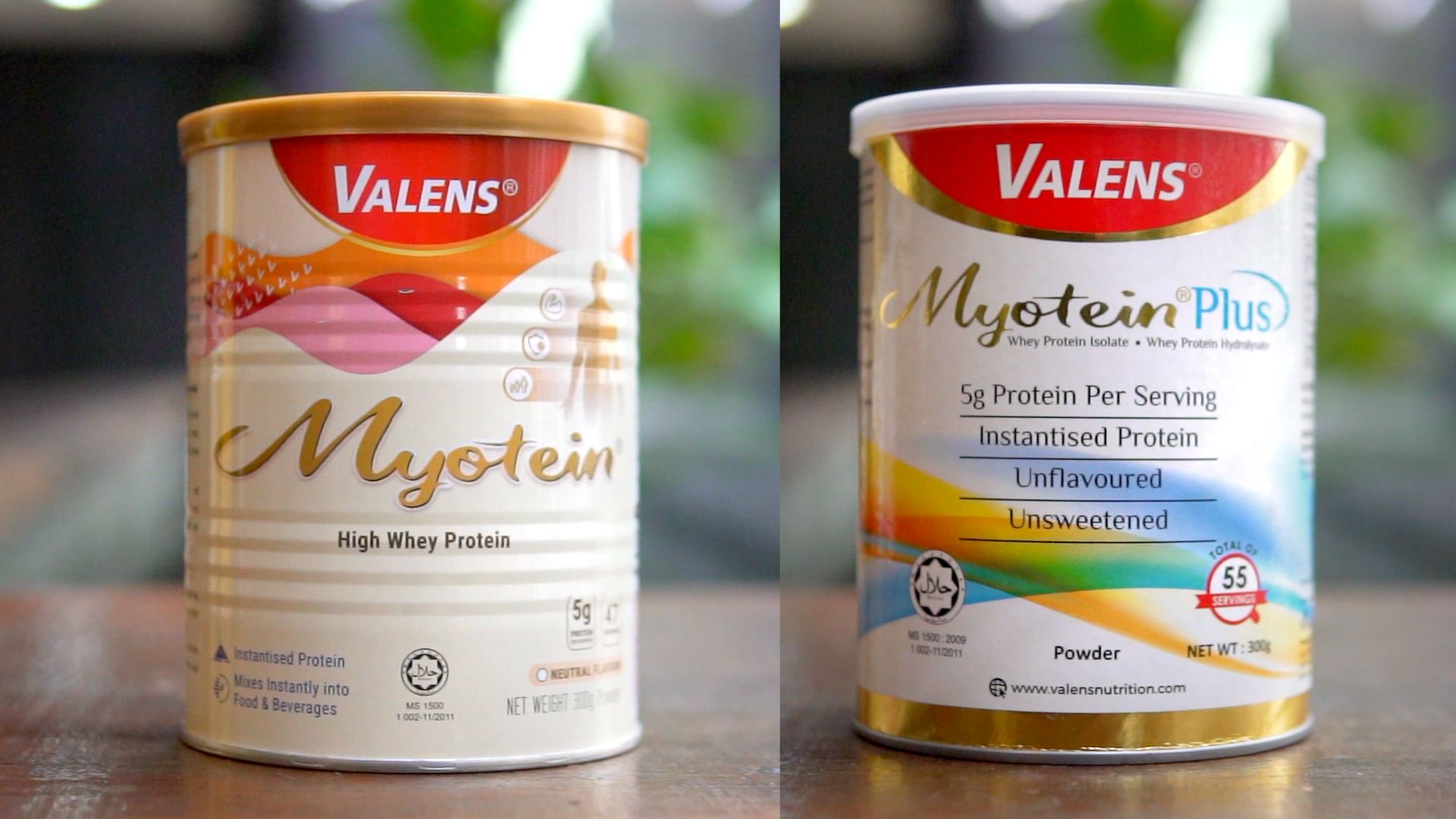 The Myotein line of products are regularly used at hospitals and clinics for various indications.
For example, Valens has long been well-known among healthcare experts for its line of bioactive whey protein supplement – Myotein and Myotein Plus, which are both regularly used at hospitals and clinics for various applications such as cancer care, aging care, pre- or post-surgery care and so on. What sets Myotein apart from other protein supplements is the stringent quality control on its source and grade, which not only makes it safe and suitable for most individuals as a supplement, but also for more complex care administrations such as enteral tube feeding, renal diet and so on.
Among the elderly and patients of neurological diseases such as stroke and Alzheimer's disease, dypshagia (difficulty to swallow liquids and certain food) is a common condition, which often requires a food and drinks thickener to thicken fluids and soften certain food for safe consumption. Addressing this need, Valens THIXER is one of the leading, clinically-safe food and drinks thickeners in Malaysia and Singapore. THIXER is also generally recognised as safe (GRAS) by US FDA (United States Food and Drug Administration).
Thixer is generally recognised as safe (GRAS) by US FDA (United States Food and Drug Administration).
In Malaysia, Valens' Gucil PHGG Fibre (Partially Hydrolyzed Guar Gum) is also a clinically proven soluble fiber for digestive health, including diarrhoea management. In a recent scientific publication, Valens' Gucil has been stringently proven to reduce the risk of diarrhoea of pelvic radiation patients at post-supplementation. It may play a prophylaxis role in minimizing the effect of radiation-induced diarrhoea if given prior to the initiation of the treatment1.
Collaborate with healthcare experts to address needs  
To address health needs accordingly with the right products and solutions, Valens constantly works closely with healthcare experts, such as doctors, specialists, dietitians, hospitals, clinical practices, as well as health authorities. Therefore, all Valens products are formulated through stringent quality control systems and strictly adhering to medical standards, which makes they safe and suitable as a general supplements for most individuals who require supplementary nutrition.
With constant modernisation and rapid changes in our way of living today, supplementary nutrition is no longer an option but a necessity for health support. Therefore, whether it's used for prevention or treatment, medical nutrition is indispensable when it comes to supporting good health, or complementing a patient's treatment program.
For more information on Valens Nutrition, please visit our website: www.valensnutrition.com 
References :
Rosli, D., Shahar, S., Manaf, Z. A., Lau, H. J., Yusof, N., Haron, M. R., & Majid, H. A. (2021). Randomized Controlled Trial on the Effect of Partially Hydrolyzed Guar Gum Supplementation on Diarrhea Frequency and Gut Microbiome Count Among Pelvic Radiation Patients. JPEN. Journal of parenteral and enteral nutrition, 45(2), 277–286. https://doi.org/10.1002/jpen.1987
Disclaimer: This Website Does Not Provide Medical Advice
The information, including but not limited to, text, graphics, images and other material contained on this website are for informational purposes only. No material on this site is intended to be a substitute for professional medical advice, diagnosis or treatment. Always seek the advice of your physician or other qualified healthcare providers with any questions you may have regarding a medical condition or treatment and before undertaking a new health care regimen, and never disregard professional medical advice or delay in seeking it because of something you have read on this website.